HGLRC Sector132 3-4S FPV Racing Drone 4K Caddx Tarsier with XM+
HGLRC Sector132 3-4S FPV Racing Drone 4K Caddx Tarsier BNF PNP from Cyclone FPV
This item is discontinued and will no longer the stocked at our store. 
HGLRC Sector132 Freestyle Frame Kit

Material: 3K Carbon Fiber
Model: Sector
Wheelbase: 132mm
Bottom Plate Thickness: 3mm
Standoff Height: 28mm
Flight control installation holes: 16X16/20X20mm
Support camera: 14X14/19X19mm
Weight: 57.9g
Component Specs:
HGLRC F4 Zeus AIO 15A 4in1 ESC Flight Controller

Item Name:F4 Zeus AIO Flight Controller
MPU:MPU6000-SPI
CPU:STM32F405RGT6
Black Box:Flash 16M
Built-in Betaflight OSD to adjust PID
Input Voltage:3-4S Lipo
BEC Output:5V3A
Size:37x32mm
Installing Hole:20x20mm, M2
Support SBUS/PPM/DSMX/iBUS receiver
Item Name:15A 4in1 ESC
Constant Current:15A(3S) 13A(4S)
Peak Current:25A(10S)
CPU:SILABS EFM8BB2 48MHZ
MOS Tube:TOP QUALITY MOSFET
Support Damped Mode:DSHOT600/300/150/Oneshot125/42,MultiShot,PWM
Weight:6.2g
HGLRC FD VTX Micro 400mW

Item Name:FD VTX Micro
Output Power:PIT/25mW/100mW/200mW/400mW Switchable
Input Voltage:DC 5V
PIT---------0dBm------70mA
25mW-----14dBm-----150mA
100mW----20dBm-----210mA
200mW----23dBm-----280mA
400mW----26dBm-----360mA
Installing Hole:16x16mm, M2
Size:20x20mm
Antenna:IPEX
Weight:1.5g
CADDX Tarsier 4K

CAMERA:19X20mm
DVR:29X29mm
HOLE:20X20mm
FOV:4K F2.8,FOV150°(16/9),FPV FOV165°(4/3)
Lens:DUAL Lens F2.8/12Mega
Audio:DUAL DIGATIL MIC
CPU:Dual core dual system
Sensor:12M sensor,1/1.8INCH",1/2.9INCH
Main Resolution:
4K/30fps 16:9
2.7K/60fps 4:3
1440P 60fps/30fps 4:3
1080P/90fps,60fps,30fps 16:9
720P 120fps 16:9
CAMERA Bitrate:50kbps/66kbps
Video System:NTSC/PAL
ISO:OFF/100/200/400/800/1600
ANTI-SHAKE:Hardware anti-shake
Scene Mode:Auto/Personage/Scenery/Defog
Weight:18g
HGLRC FD1106 3800KV Brushless Motor

Motor:KV3800
Stator Diameter:11mm
Stator Thickness:6mm
No.of Stator Arms:9S
No.of Rotor poles:12P
Motor Resistance:290mΩ
Max Continuous Current:6.37A
No.of Cells(Lipo):3-4S
ESC:13A
Recommended Prop(inch):2.5-3 Inch
Wire type:28AWG x 80mm
Weight:6g
Props:
Gemfan 2540 2.5 Inch 3-Blade Propeller
Gemfan 3035 3 Inch 3-Blade Propeller
Quantity:3 CW & 3 CCW
Package Included:

1x F4 Zeus AIO Flight Controller
1x FD VTX Micro
4x FD1106 3800KV Brushless Motor
1x Sector132 Freestyle Frame Kit
1x CADDX Tarsier 4K
6x Gemfan 2540 propeller
6x Gemfan 3035 propeller
1x Hammer Antenna
Customer Reviews
Write a Review
Ask a Question
Filter Reviews:
issues
note
horizon
pilot
setup
lights
Sector 132
battery
Customer service center
Tarek @ Cyclone FPV
10/17/2020
Bill S.
United States
I recommend this product
Good flyer!
Good little flyer. 4k camera is pretty good quality. I would buy again,
06/24/2020
Jae
United States
I recommend this product
Easy to fly BNF
I just got the HGLRC Sector 132 Caddex Vista version yesterday and after 5 packs, i wanted more charged batteries. I used a 3S 650mah. The Sector 132 is very stable and easy to fly with the 3S 650mah battery and 2.5" props. I am a beginner to intermediate pilot, so this setup works well for me. I feel a 4S is on the horizon soon. On another note, when i first received the Sector 132 i was unable to get any video feed. The Caddex board seem to be the issue, (no lights came on when powered up). After contacting Tarek @ Cyclone FPV / HGLRC U.S. Customer service center (which i did not know prior). We had a quick zoom chat and after following some easy instructions, Tarek determined it was a bad Caddix Board. Long story short, Tarek is a Super Hero keeping all droners Happy and safe from mental breakdown of Drone issues. Turn around time, response time is super quick. I would recommend Cyclone FPV (2 thumbs up) Thanks again Tarek and Cyclone FPV From a Happy Customer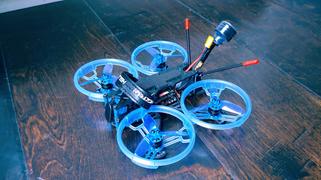 04/29/2020
Gregory c.
United States
I recommend this product
Great dealer
Great dealer has great response time and turn around time also very knowledgeable on product and problem solving