Carbon Fiber Plate Sheets 1mm 2mm 3mm 4mm 5mm
Carbon Fiber Plate Sheets 1mm 2mm 3mm 4mm 5mm from Cyclone FPV
These sheets are cut and measures as estimates. Cyclone FPV will not accept any return requests on these sheets as they are part of our inventory and can vary from listed sizes by an average of 5%. If you are not capable of accepting this margin of error, then you are advised not to purchase these sheets.
Specifications:
Dimension: 300x200
Thickness: .5mm, 1mm, 1.5mm, 2mm, 2.5mm, 3mm, 3.5mm, 4mm, 5mm
Margin of error: 5%
Surface Treatment: 3K and Gloss Finish or 3K and Matte Finish Both Sides
Weave Type: Plain Weave
Warranty:
There is no warranty or guarantee that comes with these pieces of carbon fiber. They are sold as is. People familiar with Carbon Fiber will understand the use and angles needed. If you are not familiar with carbon fiber, we recommend that you do not order from our facility. 
Note* I cannot stress enough that Cyclone FPV will not be held responsible for issues customers may have with carbon fiber sheets. We have been working with carbon fiber for a long time and have come to understand all the difficulties that come with the material and the measurements. If you are not familiar with carbon fiber, the CNC aspect and dangers of it, and more importantly, the inconsistencies with it, then you are advised NOT to purchase these sheets. Our sheets are purchased in bulk from various companies in The United States and around the world. Sheets will vary in size, weight, thickness, and weave patterns. We accept a certain level of inconsistencies with our own orders and expect all customers to understand this as well.
Customer Reviews
Write a Review
Ask a Question
06/15/2021
Daniel W.

United States
I recommend this product
Did the job
Last week I broke the bottom plate on my FR7 frame two days before a big mountain trip in a different state. I remember I had bought a sheet back last August. The material looks good and seems to be soaked in resin properly from the look of it. It also gave clean edges while cutting and really didn't need any post sanding. Thanks for giving us the option to order in a small qty at a decent price. Will definitely buy again.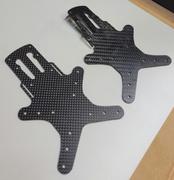 12/26/2020
Eric L.

United States
I recommend this product
Carbon
Carbon came fast just wish y'all had bigger sheets